Jay Cutler was born on August 3, 1973 in Massachusetts to a farmer's family. Jay has been accustomed to hard physical labor since childhood, from a small age he helped his older brother at construction sites. Hard work and a healthy diet laid a powerful foundation for Jay's physical development. Serious training in bodybuilding Jay Cutler began at the age of 18, but by that time he already had some experience of irregular training and stitched lying 140 kg. In the first year of training, he was not particularly progressing because of the classic beginner's mistakes: daily hours of training, a huge number of sets and exercises.
Then Jay started self-education: he began reading books, looking for advice from experienced bodybuilders, analyzing his mistakes, listening to the signals of his body. And progress has gone, at the age of 20 he won the "NPC Iron Bodies Invitational" among juniors in the heavyweight division. Two years later, in 1995, Cutler performed at the "Champions Night" tournament among amateurs, and again took first place. Here the judges noticed his potential and offered him to seriously think about the career of a professional.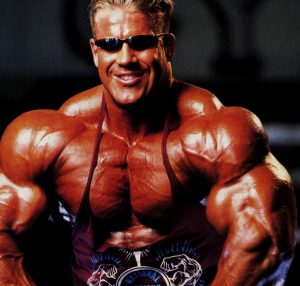 Jay was so inspired by his successes and the opinion of experts that he decided to connect his life with professional bodybuilding. He moved to California – the Mecca of bodybuilding, believing that in California he is waiting for the best conditions for classes, as the magazines of Joe Weider wrote. Jay believed that he would be able to quickly join the elite pros, but these dreams broke on the harsh reality. Venerable champions turned out to be very pompous, vain, money-crazed, and they were not in a hurry to share their secrets. Jay did not like the whole way of life of Californian pitching, who train during the day, and at night hang in clubs, and he decided to return home. But here Jay Cutler realized one thing: soon in California he will not be equal.
For two years Cutler has been training hard and winning the national championship of the United States in heavyweight among amateurs, here he receives a professional card. From this moment, Jay began storming professional tournaments. He plunges headlong into training and completely ignores bodybuilder's hangouts. He devotes 100% of his time to training, nutrition and recovery. Since the late 90's and up to the present time he is advised by the most authoritative expert in the field of bodybuilding and sports nutrition – Chris Aceto. His advice helped Cutler improve his form year after year.
After winning the 2000 Night of the Champions tournament, Jay Cutler, along with his wife Kerry, moves to Southern California, but this time not to Los Angeles, but to the small town of Lake Forest. The California climate with its year-round temperature of about +20 degrees is ideal for a bodybuilder. In addition, in California, Jay had the opportunity to earn good money, because there are a lot of representative offices of companies that produce sports nutrition, clothes, fitness equipment. Also here are the editions of the magazines "Muscle and Fitness", "Flex", "Musclemag", and next to Hollywood. All this industry needs champions who advertise their products.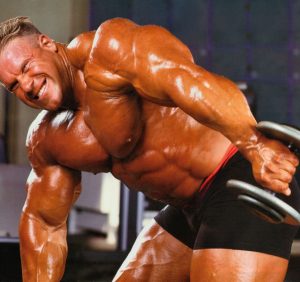 In California, Jay Cutler begins to progress even faster: his competitive weight has increased from 113 to 120 kg. Thanks to his more impressive volumes and excellent muscular quality, he takes second place at Olimpia in 2001, 2003 and 2004, and wins Arnold Classic 2002, 2003 and 2004.
Jay Cutler firmly took the second position in the world ranking of bodybuilders, but only Ronnie Coleman remained an obstacle to the highest level, which is obviously more genetically gifted. However, J believed in his victory. Fans dubbed Cutler's "last white hope" of America. Jay set himself the goal of becoming "Mr. Olympia" by all means. After carefully considering everything, he signed a contract with the company "Muscle Tech", which allowed him not to depend on earnings in other competitions and concentrate completely on preparing for Olimpia. In 2005, Jay even missed the "Arnold Classic", although he was there as a clear favorite. Jay is completely immersed in training, giving them all their time and energy. However, only in 2006 the result of truly titanic work is the fact that Jay Cutler finally managed to move the aging Ron Coleman from his throne, and then three more times to become the first at Olimpia. In 2008, Cutler unexpectedly concedes his title to Dexter Jackson and becomes second. However, in 2009 for the first time in the history of the tournament, losing to Mr. Olympia is able to once again rise to the highest level of "Olympia" and stay on it in 2010.
In 2003, at one of the championships, Jay Cutler met Phil Heath, who took 1st place in his first ever amateur tournament. Jay took him under his care and for 3 years made him famous throughout the world as a professional bodybuilder, and 5 years later in 2011 the student selected the title of the best bodybuilder of the planet from his teacher. It is worth noting that Jay was sincerely happy about his pupil's victory as his own great coaching victory, but a year later he tried to take away the title of Mr. Olympia from Phil, which he failed.
Trains Jay according to the scheme: 2-4 days of training, 2 days of rest. His training is quite extensive: he performs up to 20 sets per muscle group with a rest of 45 seconds in 6-7 exercises. The number of warm-up approaches he does not consider, but usually 3-5 approaches. Training lasts 45 minutes, when he trains one and up to 3 hours, if he trains with his partners. Constant team-mates have no training. Jay says: "I can always say what I will do in training, but when I go to it I do not know." Therefore, he calls up with friends before the training and if someone is going to practice at that time, he joins them.
The main exercise for the back Jay considers pulling up a wide grip. He says: "Look at the big backs of the guys in the prisons, and they pull up all day." For the triceps, the main exercise is push-ups on the uneven bars, as proof of this suggests paying attention to the triceps gymnasts. The main exercise for Jay's legs is squats. Jay does not believe in the myth that squats grow the entire body and use them solely for leg training. He said: "big hands do not fit on the squat." To the muscles of the press, Jay pays attention to every training, 5 times a week.
Cardio uses only before the competition and solely to "disperse" the metabolism, to consume and absorb food even more, and not for the purpose of "drying." Before "Olympia" in 2001, Jay did not do cardio at all, but nevertheless took 2nd place. "Dry" it is solely manipulation of the diet: for 2-3 days reduces the amount of carbohydrates and increases the amount of protein. A couple of days later, on the contrary: it increases the amount of carbohydrates and lowers the amount of protein. Since 1 gram of protein and 1 gram of carbohydrates contain the same amount of calories – 4 Kcal, the total caloric content of the diet remains unchanged. According to Jay, such manipulations allow him to burn fat, while retaining muscle. In general, he does not get very fat in the off-season, so he has to do a bit, 5-7 kg, Jay in a beautiful form all year round. Cutler is a big fan of the sauna, he considers the sauna an excellent means of recovery.
The diet of Jay contains 4000-6000 calories per day. At one time, he consumes 600-800 calories. He prepares in advance and carries a lot of food. Immediately after training he is reinforced in the restaurant, basically this meal consists of carbohydrates. In general, Jay complains that eating for him is hard work, it does not give him special joy and his favorite dishes he does not have. One meal at him can last an hour, and such receptions in day up to seven. Jay eats even at night, night reception is exclusively protein food. Proteins he prefer to use from white fish, because it contains a small amount of fat. His favorite fish is tilapia.
Jay is an exemplary family man. With his wife, Kerry met at school. In 1998, they played a modest wedding in Las Vegas. Kerry for Jay is a reliable support, a muse and a role model. She supports him, helps prepare for competitions, tries to make his life as easy as possible, to bring him peace and be positive. Kerry has a medical background. Works to support Jay and creates him all the conditions for training.
Jay has one original hobby: he collects sports shoes.
Jay Cutler stopped his competitive career, being sure that professional bodybuilding is not for health, and switched to entrepreneurial activity. His firm "Cutler Elite Series" produces sports nutrition and clothing. However, recently on the Internet there are videos on which Cutler assiduously polishes his already magnificent shapes. Fans have suggested that Jay may be preparing for Olympia in 2014.
Watch a Video Featuring Jay Cutler
buy steroids online usa