Ronald Dean Coleman was born on May 13, 1964 in the city of Monroe, Louisiana. Later, his family moved to the neighboring town of Bastrop, where Ronnie spent his childhood. Ronnie's mother, Jesse Benton, a woman who is far from fragile, almost died on childbirth. The child was so large that it scared the doctors with his size. Ronnie was the eldest of 4 children and the oldest man in the family, since his father did not live with them.
From a small age, Ronnie Coleman made his feasible contribution to the family budget, sometimes earning two jobs after school and on weekends, helping his mother. Ronnie played baseball and basketball, but he gave preference to American football. Coaches and fellow sportsmen remember Ronnie as the hardworking member of the team. His phenomenal genetics manifested itself by the age of 12: the guy had a height of 180 cm and a weight of 80 kg. He looked very athletic at the same time, although at that time Ron did not have a present about the bar.
From curiosity, Ronnie began attending a school gym. He did not really understand the intricacies of power sports, and as he later realized, he was doing powerlifting, although he spent most of his time on American football. It was thanks to the successes in this sport that Ronnie was admitted to the University of Grembling. Here he played as part of a university team, coached by the famous Eddie Robbinson. Coleman had a good prospect of a professional football career, but Ronnie did not plan to associate his life with professional football. He wanted to finish his studies as soon as possible and was given permission to pass the final exams externally.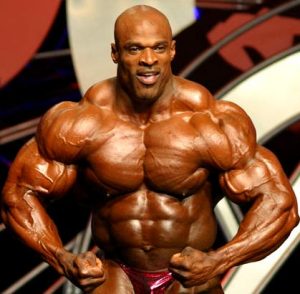 After graduating with honors, Ronnie Coleman received a bachelor's degree in Accounting. In search of work, Ronnie moved to Dallas. At first, it was necessary to carry newspapers and pizza before being accepted as an accountant in a pizzeria. It was the most ungrateful and hard work in his life, although it brought a lot of money. After 2 years, Coleman realized that accounting is not for him. Since childhood, Ronnie had a secret dream: since he was given a toy police car, he dreamed of becoming a policeman. Somehow Coleman got an announcement about recruitment to the police, and he did not hesitate to apply to the police school.
Working in the police gave a stable income, free medical care, but most importantly – allowed to train for free in the gym of the police station. From this moment, Ronnie Coleman seriously took a great interest in powerlifting. One day, a colleague invited Ronnie to visit the newly opened gym "Metroflex". The owner of the room, Brian Dobson, with an expert eye immediately appreciated the excellent genetics of Coleman and invited him to become a training partner and defend the honor of the hall by participating in bodybuilding tournaments. Ronnie did not show much interest in this, despite Dobson's prophecy about the laurels of the performing bodybuilder, and hesitated with an answer. Then Dobson offered Coleman a free subscription to his room, if he will perform at the tournament "Mr. Texas". Before such a proposal, Ronnie could not resist.
Brian Dobson has made significant changes to the purely powerlifting style of Ronnie Coleman's training. Training partner was Mark Hanlon, who instilled Ronnie taste for selfless training. In just 3 months Ronnie won in the amateur tournament "Mr. Texas" in his category and in the absolute classification. In the following year, 1991, Coleman won the World Championships among amateurs and received a professional IFBB card.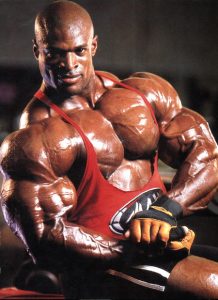 Coleman's professional career did not develop at first. Only after four years of hard training Coleman won his first victory in the professional tournament "Toronto-Montreal Pro" in 1995. In the same year, Ronnie Coleman signed a lucrative contract with the company "Met-Rx". 1996 brought him not only victory in the same tournament in Canada, but also a serious injury. Performing a deadlift not warmed enough and with errors in technique, Ronnie received a hernia of the lumbosacral spine. Injury cast doubt on further career in bodybuilding. It could break anyone, but not Ronnie Coleman. Ronnie continued to train hard and participate in tournaments.
Starting his professional career, Coleman turned to Flex Wheeler with a request to dedicate it to the subtleties of professional bodybuilding. Wheeler gave Ronnie valuable information, helped in preparation for his first "Olympia," gave the phone number of Chad Nichols, a well-known nutrition expert. And later, when Coleman went around his mentor at the Olympia, Flex never expressed regret about it.
Since 1998, Ronnie Coleman's collaboration with Chad Nichols began. Chad radically changed the diet of Ronnie, increased the cardio load to 2 hours a day. It was thanks to his advice that Coleman approached Olympia in 1998 in the best possible way. Ronnie already had experience of participating in two "Olympia": 6th place in 1996 and 9th place in 1997. In 1998 he expected to enter the TOP-5, especially in the absence of Yates, who completed his career. And now the results of the tournament are announced: the sixth place is Chris Cormier. Ronnie is thrilled: he is in the top five! Announce further: Ray, Levrone, Sonbaty. On the stage were two: Flex Wheeler and Ronnie Coleman. Ronnie is immensely happy and proud: he is the second! But when he was declared the winner, Ronnie fell down on the stage without feeling. He does not remember anything of this: neither Wheeler leaned over him on his knees, trying to bring him to his senses, nor as Cormier tried to put him on his feet. All this Ronnie saw only later in video.
With this victory began a long triumphal procession of Ronnie Coleman on professional tournaments. After "Olympia" in 1998 to 2005, he took part in 21 more tournaments, and only once became the second. Eight statues of Sandov, like that of Lee Haney, were stored in the collection of Ronnie. To become ninefold it did not happen: Cutler had long been breathing in the back … Usually tactful to the opponents, on the eve of the "Olympia" in 2006 in relation to Cutler, Coleman spoke straightforwardly: Jay has nothing to beat him, Ronnie. To Jay to win, he needs to be born again. But Cutler spent a year of titanic work on training at the expense of other tournaments, where he would be out of competition. In addition, they let know the accumulated traumas for years, and the age of Coleman approached the 40-year mark. It is rumored that Lee Haney also flew to avoid being circumvented …
buy steroids online fast delivery
Bodybuilding Related Articles: