Chris Cormier, nicknamed "The Real Deal" (which can be translated roughly as "Real Boy") is unquestionably one of the best bodybuilders of our time. It is impossible not to notice his almost perfect symmetry and wide smile. Chris Cormier closely communicates with the professional bodybuilder Flex Wheeler.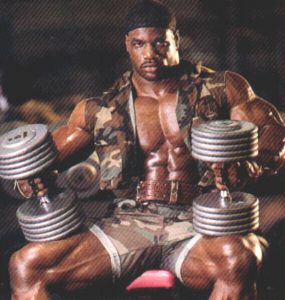 Already in his childhood, Chris Cormier became interested in bodybuilding. His idol was the famous athlete Lou Ferrigno. In the early 80's, this big guy of two-meter height participated in a popular television series, and thus spurred thousands of teenagers across America to enroll in gyms. Among them was the 12-year-old Chris. As Cormier himself tells us, his parents sent him to school a year earlier than usual, so among other beginners he was the smallest, and seemed pretty frail. But in the senior classes the situation has changed. Chris still remembers the name of the school instructor in aerobics – Mc. Loria. She noticed how Cormier grew up, and recommended it to her fiancé who was professionally engaged in bodybuilding. The council to try it out in big sport surprisingly coincided with the contest "Mr. Palm Spring" -83, which was held at his native school.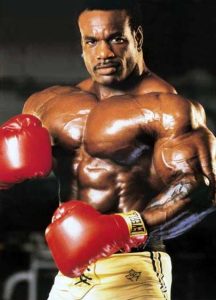 At the national champion Mike Christian was invited to the competition, he held a guest pose here. What the young Chris saw that night, predetermined his fate. "I was dumbfounded and suppressed at the same time," he recalls after 18 years of training. "It seemed that athletes under the skin had not muscles, but bowling balls." After about 2 years, Korme made his debut at Palm Spring -85, and he himself could surprise other teenagers with his muscles. Although he does not have any special professional victories up to 1997, Chris has maintained stable positions in the top list of the best bodybuilders in the world for more than 15 years. After 1 place on the 19th "Nights of Champions" and the triumph of "Ironman" in 1999, Cormier stated that he would no longer participate in the race for these titles. Then he set new goals – the show "Arnold Classic" with the largest prize fund and the prestigious "Mr. Olympia". And indeed, at the "Night of Champions" he no longer participated, but in the "Ironman" more than once ranked first. On "Arnold Classic" until 2005, Chris consistently held the2 nd place, but his success at "Olympia" was not permanent.
His goal in bodybuilding is to get the "Triple Crown" – Mr. Olympia, Arnold classic and GNC show. Chris trains 4 times a week for a separate program. In the off-season, he eats a lot to gain more weight, and the mass of his body reaches about 130 kg. Before the competition, it reduces weight by reducing carbohydrates and increasing protein in food. In the competitive period Chris weighs about 113 kg.
Chris is very kind with his family. The sportsman always finds time to stay with his beloved people. He says that nothing inspires him as much as his family.
In one interview, Chris was asked to tell something interesting that few people had heard of, and that's what the athlete said: "For the first time I wanted to compete in bodybuilding competition at the age of 15, but changed my mind, because it was very shy, that people really did not understand me: shyness! Earlier, when I was on the stage, and I was staring at a full room, I was terribly worried, although now I remember it with a smile. But bodybuilding really helped me to develop self-confidence. I entered college at the age of 16. I was younger than my comrades. I think this has a lot to do with my persistence and calm right now. It's in my soul. "
Watch a Video Featuring Chris Cormier
buy steroids asia