Famous Bodybuilder Bob Cicherillo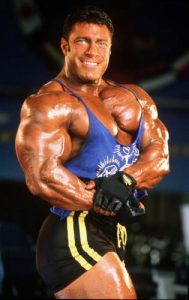 Bob Cicherillo is an IFBB professional bodybuilder.
Bob Chicherillo was born in 1965 in New York. For the first time, Bob learned about a sport such as bodybuilding at the age of 12, when he saw the film "Pumping Iron", which literally turned his world outlook.
Young Bob began to work hard in sports, and to lift all the heavy things he could find in the house. His parents noticed his son's craving for training with weights and gave him several dumbbells. In addition, Bob was drawn to bodybuilding not only physically, but also mentally – he wanted to know about it as much as possible and bought up all available at that time magazines. Over time, Bob Chicherillo became a real connoisseur in the history of BB development.
A year later, his father equipped him with a gym in the basement of his house and now Bob could train like a real bodybuilder. Before his 14th birthday, Bob Chicherillo takes part in his first bodybuilding tournament. At the age of 15 he is enrolled in a real gym, which will be visited for 5 years. As Chicherillo recalls, his first hall was a real home for the harsh "rolls": it was dark, dusty and all the simulators were dark and bulky. Despite such a dark atmosphere, Bob believes that this hall was ideal for the education of a real athlete.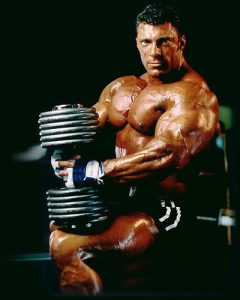 Finishing school, Bob already had dozens of awards for participating in local bodybuilding tournaments. So he did not have to be surprised when he discovered in the mail box in the early morning an invitation to the US Junior Championships. Bob took second place there. It was a real success for the 18-year-old boy Chicherillo, inspired by fame, which is called "going all the way", namely, he began to walk a lot and completely abandoned the sports regime. As a result, he was not even invited to the next year's Championship. Bob after such an insult immediately took up his mind and spent the whole year in intense training. In the end, he won at the next US championship.
It is worth noting that Bob Chicherillo began to participate in national championships along with such stars as Flex Wheeler, Sean Rey and Mike Matarazzo, but they achieved success much earlier. The fault was caused by injuries suffered by Bob, his experiments with food, new programs, etc. He could not win the national championship, without which you can not get a pass to the world of "Pro" for 7 years. Only in 2000, not giving up, Bob Chicherillo was able to prove to everyone that he really is a professional bodybuilder.
Bob continued to participate in tournaments until 2006. Possessing excellent appearance and fine physical form, he managed to achieve success in the cinema, having appeared in several films. Today, Bob Chicherillo is a regular host of the most spectacular and prestigious bodybuilding tournament Mr. Olympia and a host of other sports television programs.
Watch a Video Featuring Bob Cicherillo
steroids wiki