Olympic weightlifting has emerged from its place in the shadows and is no longer just a sport in the Olympic Games. With the popularity of CrossHit, weightlifting has found its way into mainstream fitness as it has moved from elite gyms to certain health clubs that now supply bumper plates for their members.
Along with the newfound popularity of this form of full-body lifting, however, has come a plethora of lifters who have good intentions but who use the exercises incorrectly. Weightlifting was initially designed to measure an athletes power, strength, flexibility and mental grit. In order to lift a heavy amount of weight above your head in either a clean and jerk or snatch, you need to have all of your muscles firing on all cylinders. Now, because these lifts are considered full-body exercises and high-intensity work usually encompasses full-body movements are being incorporated into high-intensity-training workouts.
I am not a fan or advocate of the trend. Using the clean and jerk or the snatch in high-intensity training that is designed to produce extreme fatigue and exhaustion is just not a good idea. Most lifters are amateurs at best, and with the high level of technical proficiency these lifts require, dangerous consequences can arise.
IN A SPLIT JERK YOU CATCH THE BAR IN A SPLIT STANCE, WHILE A SQUAT JERK INVOLVES A SQUAT STANCE.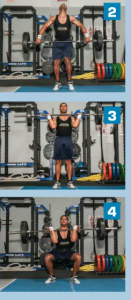 That said, I am aware that many people still use those valuable exercises as part of conditioning workouts. In order to do that
and still enforce safety and high-intensity effort, you can try 'weightlifting complexes! They're a great way to build strength and even work capacity. They're also great for lifters looking to learn flawless weightlifting technique and for improving conditioning. If you want a workout that will leave you totally exhausted and mentally wrecked, this may not be the one for you. But, if you need help with your Olympic lifts and want a challenging routine for building strength and total-body fitness, it will serve you very well.
These routines already assume that you have a baseline understanding of how to perform the clean and jerk and the snatch. They also assume that you understand the accessory movements that are used to build proficiency in both lifts, such as the front squat and deadlift.
Complexes are great because they force you to perform multiple movements without putting down the bar or taking a rest. That helps to build strength because of your time spent under tension and work capacity because of the constant movement. What makes these complexes challenging and great for building strength is that you are working with close to 75 per cent of your maximum weight on each lift. That helps you find a balance of strength work and conditioning work.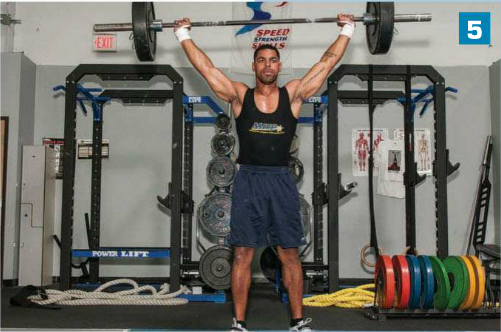 CLEAN AND JERK COMPLEXES
Place about 80 per cent of your one-rep max on the bar. Grab the bar in a clean grip, and perform the following:
Deadlift. You do this like a snatch-grip deadlift, except your hands are in the clean position. After you stand up, return the bar to the floor and immediately do the following:
Squat-clean with a three-second pause at the knees. This is great for building tension on your posterior chain and also enables you to work on your positions with Olympic lifting. With your hands still in the clean position, stand up by pushing your knees back, keeping your weight on your heels, and assuming a vertical shin angle. Pause with the bar at your knees for three seconds, and then from that hang position perform a squat clean. Remember that in a squat clean you should catch the bar at its highest point and ride it into a full squat. Alter you stand up from your squat, immediately perform:
Squat thruster. Use the momentum of standing up from your squat clean to launch the bar overhead. Once you have successfully locked out, bring the bar back down to your shoulders and perform:
Split jerk or squat jerk. Use either movement, depending on your comfort level. In the split jerk you catch the bar in a split stance, while the squat jerk involves a squat stance. The jerk can he done in different ways, so feel free to choose whatever technique you like.
Perform three to five sets of this complex, or lighten the load and do more sets.
Weightlifting complexes like this are great for amateur lifters looking to build strength and capacity and get comfortable in different positions while working under the bar. If that's you, I would advocate performing five sets, working up to the final 75 per cent of your one-rep max on a regular clean and jerk.
If you want more intensity or a more metabolic training effect, perform the complex while taking only a 30-second rest between sets. Keep the load at 75 per cent, and keep going until you can no longer hold the bar between exercises or until you miss a rep.
The final alternative is to perform this complex as a great finisher to a training session. Lighten the load, and repeat the sequence for 10 minutes, trying to complete as many rounds as possible in that time.
IN ORDER TO LIFT A HEAVY AMOUNT OF WEIGHT ABOVE YOUR HEAD IN EITHER A CLEAN AND JERK OR SNATCH, YOU NEED TO HAVE ALL OF YOUR MUSCLES FIRING ON ALL CYLINDERS.
As mentioned above, this discussion assumes that you already have a sound understanding of the Olympic lifts. Complexes like this one are not meant for the uninitiated. If you are new to Olympic lifting, find a coach in your area and begin getting more experience under the bar before you start performing high-level complexes.
Ultimately, weightlifting exercises are a great tool for anyone looking to improve bis or her overall performance, strength, power and fitness. When you begin to combine this type of training with conditioning, however, the risks are increased. Finding the balance between strength and conditioning training is sure to increases your potential. These complexes help to bring both training spectrums into play. Give them a shot the next time you dedicate some time to your weightlifting.
steroids pictures