Famous Bodybuilder Charles Atlas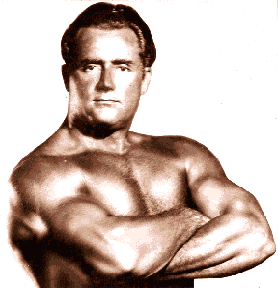 Charles Atlas, born Angelo Siciliano (October 30, 1892, Acri, Italy – December 23, 1972, Long Beach, New York), was the developer of a bodybuilding method and its associated exercise program that was best known for a landmark advertising campaign featuring Atlas's name and likeness; it has been described as one of the longest-lasting and most memorable ad campaigns of all time.
According to Atlas, he trained himself to develop his body from that of a "scrawny weakling", eventually becoming the most popular muscleman of his day. He took the name "Charles Atlas" after a friend told him he resembled the statue of Atlas on top of a hotel in Coney Island and legally changed his name in 1922. His company, Charles Atlas Ltd., was founded in 1929 and, as of 2010, continues to market a fitness program for the "97-pound weakling" [44 kg]. The company is now owned by Jeffrey C. Hogue.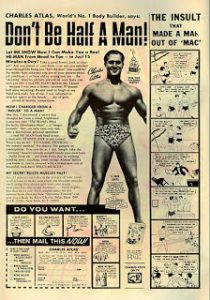 Born Angelo Siciliano in Acri, Calabria, Italy, in 1892, Angelino, as he was also called, moved to Brooklyn, New York, in 1905, took the name Charles, and became a leather worker. He tried many forms of exercise initially, using weights, pulley-style resistance, and gymnastic-style calisthenics. Atlas claimed they did not build his body. Atlas was inspired by other fitness and healthy nutrition advocates who preceded him; world-renowned strongman Eugen Sandow and Bernarr MacFadden (a major proponent of "Physical Culture").
As a youth, according to the story he always told, Siciliano had a bully kick sand into his face at a beach; at this time in his life, also according to the story, he weighed only 97 pounds (44 kg). Humiliated, the young Siciliano joined the YMCA and began to do numerous exercise routines, becoming obsessed with strength. According to several stories/claims while at the zoo and watching a lion stretch, he thought to himself, "Does this old gentleman have any barbells, any exercisers?…And it came over me….He's been pitting one muscle against another!" He concluded that lions and tigers became strong by pitting muscle against muscle.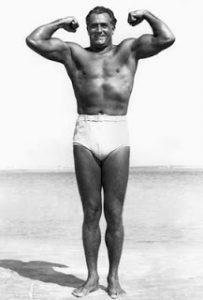 In 1921, Bernarr MacFadden, publisher of the magazine Physical Culture, dubbed Siciliano "The World's Most Perfectly Developed Man" in a contest held in Madison Square Garden He soon took the role of strongman in the Coney Island Circus Side Show.
In 1922, the now-30-year-old Siciliano officially changed his name to Charles Atlas, as it sounded much more American. He met Dr. Frederick Tilney, a British homeopathic physician and course writer who was employed as publisher Bernarr MacFadden's "ideas man." Atlas and Tilney met through MacFadden, who was using Atlas as a model for a short movie entitled "The Road to Health." Atlas wrote a fitness course and then asked Tilney to edit the course. Tilney agreed and Atlas went into business in 1922. Tilney himself had an extensive background in weight training.
Watch a Video About Charles Atlas:
where can i get steroids online